If how many dog-eared pages a book has after you have finished it is any indication of how good it is, Twelve by Twelve: A One-Room Cabin Off the Grid and Beyond the American Dream is amazing. I have never (and I do mean never) folded down that many corners of pages I wanted to revisit later in a single book. And in all honesty, I don't even want to really say too much about the book because I believe you have to experience it for yourself – I don't want to inject my interpretation of it too much and possibly spoil it for you. When I started the book, I expected nothing more than a story about a guy who lives in a 12×12 off grid cabin, which is a story I have read 100 times. But this book is not that, not at all – it is so much more and so very different than what I was expecting. It's about growth, indecision, struggle, and joy while being full of honesty and authenticity. It is hands-down the best non-fiction book I have read this year, without a doubt. Basically, the book is about the author going to stay in an off grid cabin on 30 acres in NC which is owned by a physician who willingly lowered her salary to $11,000 – so she wouldn't have to pay income tax and thus not fund any wars. The author, who has been a busy international activist for many years, is struggling with being a "man without a country" (I feel like this quite often) and finds the time in this cabin to evaluate his life, his lifestyle, his needs and his wants – oftentimes without expected results.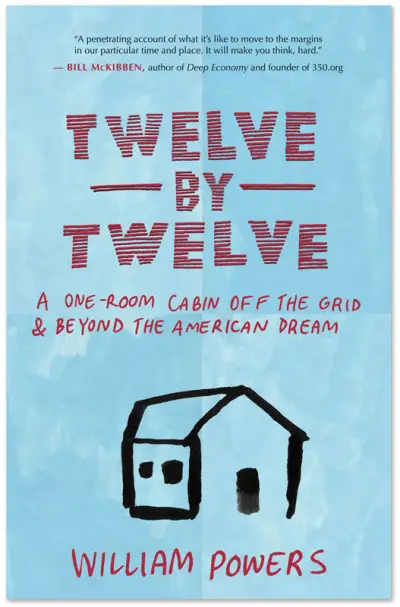 This book is so much bigger than I expected it to be, and again without giving away too much, I wanted to share a few short pieces from some of my dog-eared pages…
Solitude's richest gift is allowing one's own thoughts to flow, and not through mental aqueducts built by others.
Today it's not the British Empire colonizing us, but a pervasive corporate globalism.
Walking the aisles of the organic Adams Market, I looked around and saw what I might become: a holier-than-thou progressive, carving an identity niche out of being so darn responsible.
I have helped create rainforest-protecting municipal reserves, indigenous areas, and community forests that have successfully resisted logging, mining, and industrial farming. But these efforts have been trounced by the global trend. Have I been merely rearranging the deck chairs on the Titanic?
When I fly over the rainforest into these places, I feel the irony. Planes spew dangerous global warming gasses into the stratosphere that hasten the desertification that fuels rainforest decline.
Ironically, the more I treated my life energy as sacred and lived frugally, the more I was able to indulge myself; I could gush generously where it counted.
I could go on and on with more of my favorite passages, but you really need to read the entire book for yourself. I cannot recommend this book enough; books don't usually affect me this much, and this one has definitely changed my viewpoint on, and my perception of, life. I plan on rereading it many times over, and will continue to fold down pages and highlight important passages for a long time to come. Thank you, Mr. Powers.
If you are looking for a book to inspire you and change you, then borrow, beg for, or buy this book – you won't be sorry.
Originally published on The Good Human, but since I just re-read the book I wanted to share it with you guys.